Is My Credit Union Federally Insured and How Do I Know?
All federally insured credit unions must prominently display the official NCUA insurance sign shown below at each teller station and where insured account deposits are normally received in its principal place of business and in any of its branches. Federally insured credit unions are also required to display this official sign on its Internet page, if any, where they accept deposits or open accounts. A credit union may not end its federal insurance without first notifying members.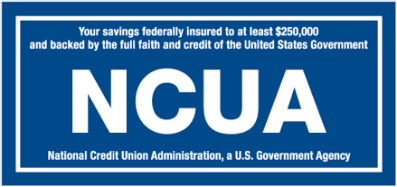 Is My Money Safe in a Credit Union?
Credit unions encourage their members to save regularly to build economic security for themselves and their families.
Deposits at all Federal Credit Unions and the vast majority of state-chartered credit unions are covered by National Credit Union Share Insurance Fund (NCUSIF) protection. Not one penny of insured savings has ever been lost by a member of a federally insured credit union.
Federally insured credit unions offer a safe place for you to save your money, with deposits insured up to at least $250,000 per individual depositor. The National Credit Union Administration (NCUA) is the independent agency that administers the NCUSIF. Like the FDIC's Deposit Insurance Fund, the NCUSIF is a federal insurance fund backed by the full faith and credit of the United States government.
Federal vs. State-Chartered Credit Unions
Federal Credit Union: NCUA regulates and insures Federal Credit Unions. A federal credit union can adopt a trade name for use in advertising but its official charter name, which must have the word "federal credit union" in it, must be used in all official or legal communications or documents. Circle FCU is a Federally Chartered Credit Union.
State-Chartered Credit Union: State-chartered credit unions are regulated by the state supervisory authority where the credit union's main office is located and may or may not be insured by NCUA.